Private View, Threewalls – Chicago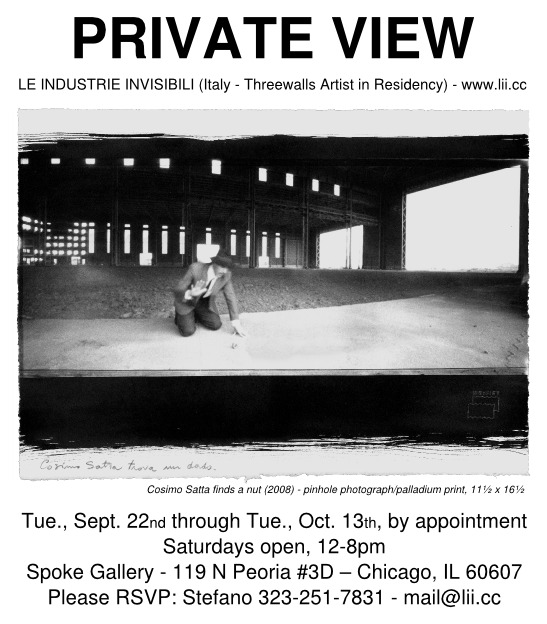 Artist Stefano Cossu started the SoFiET project (Science of Fiction Entertainment Technologies) in 2006 in Los Angeles, as a research branch of his project Le Industrie Invisibili. SoFiET's research is focused on the threshold between fiction and reality, by means of pinhole photography. Photography is seen by SoFiET as a physical event, tied to a constructive, performative and/or bodily factor, which always has something ineffable. The fuzziness and the visual flaws, caused by a non-industrial construction of the cameræ obscuræ used and by accidental light leaks, are the main exterior features of SoFiET's images. They want to testify to the flimsiness, and therefore the uniqueness, of the photographic image landed on the film almost by chance.
Stefano Cossu graduated in 1998 at the Academy of Fine Arts in Sassari, Italy, and in 2001 in a sculpture specialization course at the Academy of Fine Artst in Stuttgart, Germany. He attended several seminaries and artist residency programs in Europe and the USA, including the Fondazione Ratti in Como, Italy (with M. Abramovic), Raid Projects in Los Angeles and, currently, Threewalls in Chicago. He founded the Le Industrie Invisibili project in 2001 and SoFiET in 2006, which cover his whole art production. His works have been shown in several venues in Europe and the USA, including Raid Projecs and LA Artcore in Los Angeles, 516 Arts in Albuquerque, NM, Galleria Il Ponte in Florence, Italy, Viafarini in Milan, Accademia di San Luca in Rome (October 2009).