Italian Cultural Institute and Museum of History of Photography, Cracow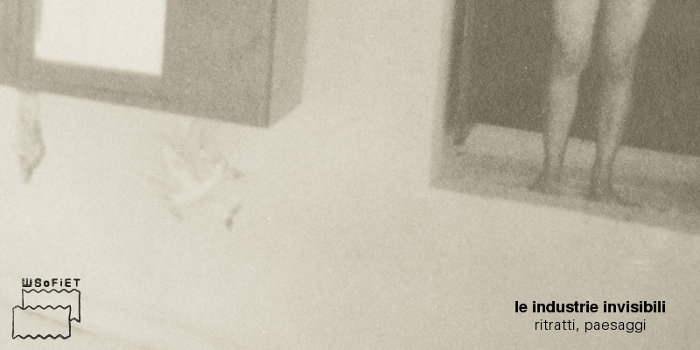 Le Industrie Invisibili – Ritratti, Paesaggi (Portraits, Landscapes)
Images from the Photography Museum Images from the Italian Cultural Institute
Download catalog (PDF, Italian/Polish, ~9MB)
Le Industrie Invisibili / SoFiET (Science of Fiction Entertainment Technologies) is a project by the artist Sefano Cossu, who uses pinhole photography as his main artistic language. This particular photographic technique, which produces an upside down image from the light passing through a narrow hole, is a means to capture the double nature of light as a physical event and as a fictive projection of reality – or also, as a force which can build and destroy an image at the same time.
Two complementary exhibitions in Cracow, viewable during the Cracow Photography Month, show a selection of works made by Stefano Cossu in very different stages of his research, but closely tied and consequent to each other.
The series Ricerca C1, a conceptual work made in 1996 focusing on portrait and inspired by Leonardo da Vinci and Antonioni's movie Blow Up, will be shown at the Italian Cultural Institute in Cracow. Starting from a classic portrait of a model in a landscape, the artist gradually enlarges the image still keeping the same framing, until the grain takes over the image itself and eventually reveals the primary elements of photography.
The Museum of Contemporary Photography in Cracow will host several series of pinhole works made between 2006 and 2009, going from the wide spaces of the Californian desert to Sardinian landscapes and interiors. The ancient cultural heritage of this land merge with the industrial archaeology of mining towns and with the contemporary urban landscape. The pinhole cameras used by the artist to create these images will be shown in this exhibition as well.
Stefano Cossu (Sassari, Sardina 1974) got his BFA in Sassari and an MFA at the Kunstakademie in Stuttgart with the sculptor Giuseppe Spagnulo. He attended to several international residency programs such as Künstlerwege in Prague, the Fondazione Ratti in Como (with Marina Abramovic), Raid Projects in Los Angeles and Threewalls in Chicago.
Le Industrie Invisibili's works have been shown in several venues in Europe and the USA: the Italian Cultural Institute and the Museum of History of Photography in Cracow; the Accademia di San Luca in Rome; galleria Il Ponte, Florence; LA Artcore, Los Angeles; 516 Arts, Albuquerque (NM, USA); galleria Viafarini, Milan.
Stefano Cossu lives and works between Sardinia and several locations in Europe and the USA.
The exhibitions will be part of the Nauki Festiwal (Festival of Science) in Cracow. A bilingual catalogue in Italian and Polish will be published by the Italian Cultural Institute in Cracow.
Opening:
Friday May 7th, 6pm
Gallery of the Italian Cultural Institute
May 8th – June 13th

INFO:
Istituto Italiano di Cultura
ul. Grodzka, 49
31-001 Cracow
tel.12 421 89 43/46 ext. 116
barbara.nowak.iic@esteri.it
www.iiccracovia.esteri.it

Opening:
Friday May 14th, 5pm
Museum of History of Photography
May 15th – June 13th

INFO:
Museum of History of Photography
ul. Józefitów, 16
31-001 Cracow
tel./fax 12 633 06 37
foto@mhf.krakow.pl
www.mhf.krakow.pl