A Sense of Place - Venice Biennale at the Italian Cultural Institute of Chicago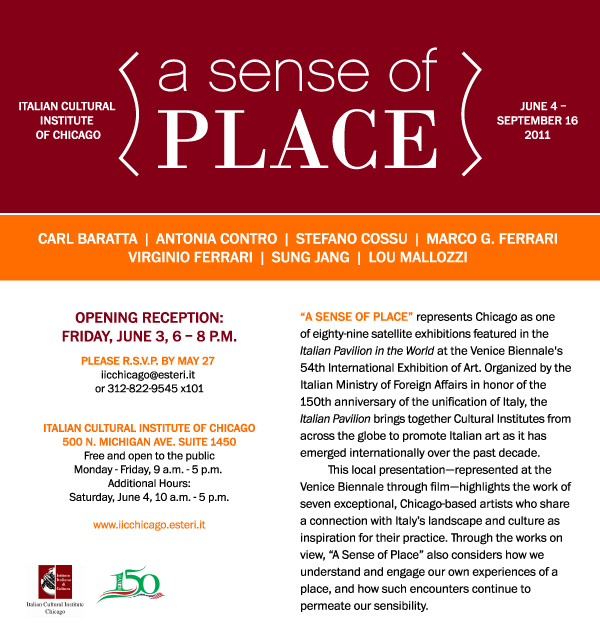 Friday, June 03, 2011 - Friday, September 16, 2011
Opening: June 3rd 2011, 6-8pm
Italian Cultural Institute of Chicago
500 N Michigan Avenue, suite 1450
Chicago, IL 60611
(312) 822-9545
In collaboration with the Venice Biennale 2011
"A Sense of Place" represents Chicago as one of eighty-nine satellite exhibitions featured in the Italian Pavilion in the World at the 54th International Art Exhibition of the Venice Biennale. Organized by the Italian Ministry of Foreign Affairs in honor of the 150th anniversary of the unification of Italy, the Italian Pavilion brings together Cultural Institutes from across the globe to promote Italian art as it has emerged internationally over the past decade. This local presentation – represented through film in Venice – highlights the work of seven exceptional, Chicago-based artists who share a connection with Italy's landscape and culture as inspiration for their practice.
The artists included in the exhibition are Carl Baratta, Antonia Contro, Stefano Cossu, Marco Ferrari, Virginio Ferrari, Sung Jang, Lou Mallozzi. The exhibition is curated by Kate Zeller.
Through the works on view, "A Sense of Place" also considers how we understand and engage our own experiences of a place, and how such encounters continue to permeate our sensibility.