Lecture at UIC
Stefano Cossu - The Science of Fiction Entertainment Technologies
University of Illinois at Chicago, Grant Hall 308
September 14th 2011, 2pm - Directions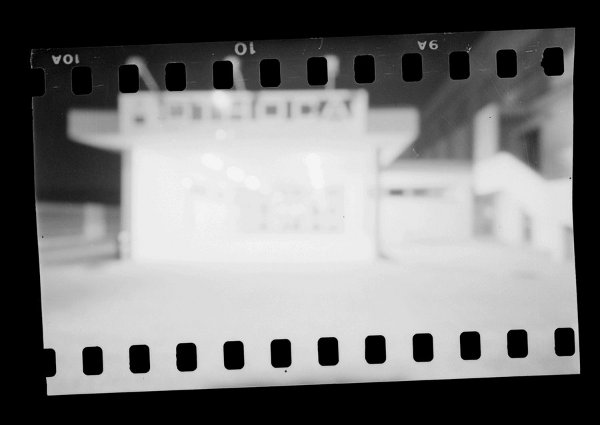 Stefano Cossu builds primitive, home made cameras from various materials and uses them to capture raw, blurry snapshots of the real world on chunks of photographic film, which become fictitious characters' stories. His practice consists of a mix of sculptural, performative and relational work, along with traditional photography and alternative printing techniques. Pinhole photography, which exploits the laws of optics to create images from light passing through a hole in a box, has been Cossu's favorite medium for several years. In 2006 he started a project called SoFiET (Science of Fiction Entertainment Technologies) focused on process-based and narrative series of photographs based on this technique. Since then, he has created photographic images on different media, using hardware cardboard boxes taped to poles and left out all night, aluminum canisters with tiny fragments of super 8mm film, one-shot large format devices, parts of old cameras, and wooden boxes disguised as trash bags. Cossu's work seeks to praise the nature of light, and to contemplate its double nature as a creative and destructive agent in the making of an image.
Stefano Cossu was born in Sardinia, Italy. He earned his BFA in Sassari, Italy and his MFA in Stuttgart, Germany. He has worked in Germany and Italy, USA, and Palestine in the sculpture, performance and relational aesthetic fields. In 2006 he began the SoFiET project using pinhole photography. Between 2006 and 2010 he traveled between his homeland and the USA. As of 2011, Stefano lives and works in Chicago.
His work has been shown in solo and group exhibitions in Europe and the USA, including: the Italian Cultural Institute of Chicago; Villa Reale, Monza, Italy; Lake Forest College, IL; Italian Cultural Institute and Museum of Photography, Cracow, Poland; Threewalls, Chicago; Accademia Nazionale di San Luca, Rome; LA Artcore, Los Angeles, CA; 516 Arts, Albuquerque, NM; Galleria Il Ponte, Florence, Italy; Raid Projects, Los Angeles, CA.